The city of Querfurt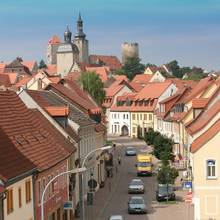 Stadtinformation Querfurt
Markt 9
06268 Querfurt

phone: +49 (0) 34771-60140
stadtinformation@querfurt.de
www.querfurt.de
Visitors arriving by car can use one of the free visitors' parking spaces and are then guided by the tourist signs to the old town, with its Baroque houses, formerly belonging to farmers with citizens' rights. These have been restored to their former glory through renovation works that were consistently accompanied by the protection of the houses as historical monuments.
The marketplace takes its character from the town hall, whose main building dates from the late Gothic period and is still the seat of the town administration today. Opposite the town hall is the town information office, where guests can obtain flyers, souvenirs and further information.
As you walk further you will come across the old town wall, two thirds of which has been preserved. This dates from the 14th century and gives visitors an idea of the former size of Querfurt. The late Gothic parish church is well worth visiting, including a walk round the cemetery, where graves can be found from five centuries.
The Thalgarten is in an idyllic position and leads to Thaldorf, where you will find a memorial to St Bruno.
You can find out more about the town's history and its most famous personalities, such as the important naturalist Johannes Schlaf or Jacob Christian Schäffer, the polymath and inventor of the washing machine, on a guided tour of the town, which the town information office will be pleased to arrange.
An ideal souvenir of your visit to Querfurt is a bottle of the wine "Edler von Querfurt", which is grown in the former monastery vineyard "St. Bruno" not far from the town, or the herbal liqueur "Dicker Heinrich", named after the large round keep of the castle.